My first sailing as kid was done in a big lake. Then in my early 20s, now as a proud diesel truck mechanic, I discovered windsurfing and even manage to make the first windsurfing school on the beach of Maspalomas Gran Canary island.
CHIMPANZEE ON BOARD
From here I went to Africa on a 50 feet Bristol channel cutter with an old Englishman, not a particularly good sailor, but a very solid guy. From Africa, I managed to get to Brazil with a huge 600 tons three-masted schooner built in the Canary Islands in 1913 with the name of Marte. Here I had to understand what sailing really is about because I was the skipper and only had my girlfriend, a 60-year-old butcher, and my chimpanzee 🙂
After that followed many years of cruising with many different bigger sailboats. A long stretch as a charter captain in the Caribbean and several Atlantic crossings. In the beginning, the weather was only heard on the VHF radio and close to shore or by looking up. GPS came late in the 80s and it made a hell of a difference. Weatherfax came on board in the 80s also and certainly, you could avoid or at least be aware of the worst weather on your route.
In the later years, I started being enthusiastic about multihull, the speed and the steadiness of the deck. I tried Lammerlaw at 23 kn boat speed and had plenty of tumbling over with Hobie Cats. In '96 I received my first foiling equipment the pump-a-bike. And here I realized that the future was foils. I mounted a small subsea diver pusher gasoline engine and it could foil on forever after kick-off.
TECH
Nowadays I can step on any vessel knowing the weather and exact location cross an ocean and reach any port just with my mobile phone. Even better when connected to my Satcom, with Predictwind/route, Navionic and Windy my autopilot can do all alone, so I just havee to change sail position if needed.
The equipment onboard has changed in quality to make everything easy and really it should be maintenance-free, except for a yearly hauling. The maintenance onboard is really what takes most of your time or at least should take most of your time, but it's all related to your comfort and what is the idea behind the sailing. Our naval engineering community seems directed to build larger and larger instead of dividing for safety and environmental concerns, although they also see the future in autonomous run vessels.
Being on the safety-in-shipping council of Brazil in 00es, I discovered the very unsafe nature of the passenger transport on Amazon rivers. Several thousand people lose their life yearly by transitting on +14.000 old heavy wooden boats, spending millions of gallons of diesel fuel, all subsidised by the government. Investigating the options in river vessels worldwide only expensive Fiberglas or composite cats would be the solution.
Then I discovered the "sanitary" GRP pipe production of Amiblu Flowtite and the vacuum infusion bonding, and together with Dorin draw the first 20m Catbark and 56m Plastique.
This was Catbark start and all made sense when considering shipbuilding, which went from wood planks and raw rafts to hot hammered and later hot rolled steel plates, where structural vessel building became the user of steel plates, poles, and extruded pipes.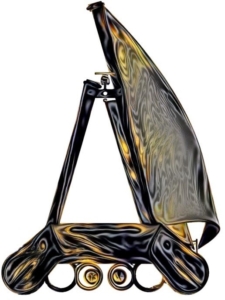 CONCEPT
I believe that we must downsize, make it stronger, and have multi-purpose in shipping. I would use the Zippy lighter and the Bic lighter to show the way shipping should be. Now imagine if you also produce the gas in the Bic lighter when you twist the igniter wheel.
One day drones will make all last mile delivery and load up also their fuel cell on Catbarks concept decks together with moving cargo loads last mile. Autonomous sailing from mobile phone size instrument to the very simple steering and sail operation onboard Catbark, which anyway will go on strict routes and stay away from scenic and heavy transited areas. Production time reduced to days and fleets to move for example economic and environmental fugitives en masse from beaches close to drought and weather-stricken areas. Fleets of "houseboats " Catbarks will gather in huge festivals of music and conferences without disturbing other citizens.
Okay quite sometime in the future but the start has been good and no show stoppers in sight.
Pipe production capacity in 4,5 meters diameter is around 1 million meters per month so the bottleneck will be the 3-5 days bonding period and our complex composite prepreg foils, although they only take a couple of hours to foundry, electromagnetic thrusters and sail gears, besides the usual delay from rules and regulations demands.
Today I expect the prototype to be finished for sea trials in 3 months after the upstart in Esbjerg's ship and wind energy industrial center.
Here the offshore wind industry already has the equipment and expertise in VARTH bonding, fiberglass, and handling round huge elements. So BP basics are networking with the offshore wind industries suppliers and workshops here.
Our present efforts are directed at preparing the right composite mix in pipes and foils from base chemical materials at refineries like Owens Corning and Ashland. Likewise, electromagnetic rim-driven thruster and winches must be reduced in production time and price, as surely the propulsion method on the river version will have SunPlower thrusters and hydropower from the current solution.
Let's start?
Jan